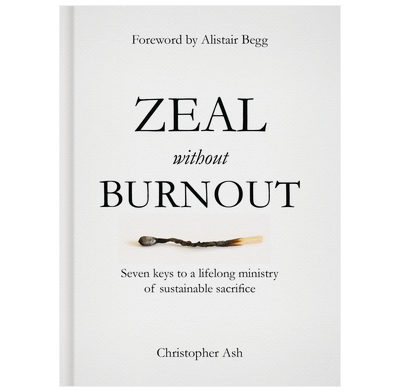 Zeal without Burnout
Seven keys to a lifelong ministry of sustainable sacrifice
Practical and biblical guidance to help enthusiastic Christians serve Jesus in a sustainable way.
Lots of people who are involved in Christian ministry (whether paid or unpaid) find themselves having to step back from it. They have not lost their love for Christ, or their desire to serve him. But for one reason or another, they are exhausted and simply cannot carry on.
Christopher Ash knows this experience all too well. As a pastor of a growing church, and then in his role training people for ministry, he has found himself on the edge of burnout a number of times, and has pastored many younger ministers who have reached the end of their tether.
His wisdom has been distilled into this short, accessible book, in which he reveals a neglected biblical truth and seven keys that flow from it. This practical and biblical guidance will help enthusiastic Christians gain the mindset and lifestyle to protect themselves from burnout and serve Jesus for the long term in a sustainable way.
Who is this book for?
Here is Christopher's answer from the introduction:
"I write for all zealous followers of Jesus. Perhaps especially for pastors and Christian leaders ~ to those entrusted with pastoral oversight under God. Some of us have the privilege of being set free from other jobs to devote ourselves to this work; others combine pastoral leadership with "normal" secular work. But I write also for the many keen Christian men and women who, in addition to "normal" life ~ busy jobs, parenthood, and so on ~ labor sacrificially to serve in their local churches."
From the foreword by Alistair Begg
"Christopher brings to this important subject, not just a personal experience of burnout, but a keen eye to the Bible, and wise pastoral insight into the pressures many of us face as we live for Jesus."
Contents
Introduction
A neglected truth
Seven keys
1. We need sleep
2. We need Sabbath Rests
3. We need friends
4. We need nourishment
5. A warning: beware celebrity
6. An encouragement: it's worth it
7. A delight: rejoice in grace not gifts
Conclusion
Specification
| | |
| --- | --- |
| Contributors | Christopher Ash |
| ISBN | 9781784980214 |
| Format | Hardback |
| Dimensions | 134mm x 185mm x 15mm |
| Language | English |
| Pages | 128 |
| Publisher | The Good Book Company |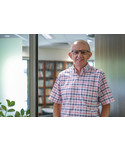 Gary Millar
Principal, Queensland Theological College, Australia
In this marvellous and much-needed book, Christopher Ash manages to warn, encourage, expose and comfort in equal measure. Every page is humane, penetrating, rich, wise and above all, gospel-saturated. This book came to me as a word in season from a humble brother (and the other brothers and sisters who shared their stories), and I am sure God will use it to do the same for many, many others.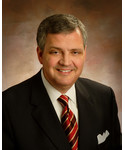 R Albert Mohler Jr
President of the Southern Baptist Theological Seminary
Books like this are a needed resource for the weary pastor. Christopher Ash draws on years of personal experience and rich biblical wisdom to provide ministers with a tremendously encouraging resource to persevere and thrive in the ministry. This is a book all pastors need to read and take to heart for the sake of their church and for the sake of the fruitfulness of their ministry.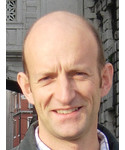 Dr Andrew Nicholls
Medical Doctor and Church Pastor
As a pastor of 12 years and no longer young, I praise God for Christopher
Ash's self-disclosing cry that we are but dust! We live moment by moment as
frail beings given health and strength by our sovereign Father, but those
are limited by his grace so that we never forget that he is God, not us,
and that we are constructed so as to need him rather than to replace him.
May this book help us end the corporate church conspiracy to seem stronger
than we are, even omnipotent, and leave us content to keep being wisely
weak and daily dependent until Jesus returns.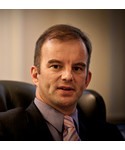 Burnt out Ash
Carl Trueman, Mortification of Spin, May 16th 2016
What shocked me about some of the testimonies of burn-out in this book was how suddenly it had descended. A pastor goes to bed one night feeling buoyant and strong. The next day he is mentally incapable of facing work again, a condition which lasts for months. That is sobering. It made me take notice.... continue reading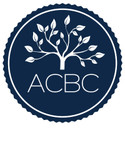 "Wonderfully helpful"
Kyle Johnston, Association of Certified Biblical Counselors, October 11th 2016
This is a wonderfully helpful book. Not complicated or comprehensive, but wise, personal, and based soundly on Scripture. If you're feeling stressed out, burnt out, or discouraged in your ministry—God may well use this book to correct and encourage you to stay the course. Warmly recommended.... continue reading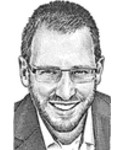 "A book for every Christian?"
Tim Challies, Challies.com, April 13th 2016
Those who read this book and follow its counsel will find themselves equipped to serve the Lord will zeal, but also in a way that can be sustained over the long-term. For that reason, this is a book for every Christian.... continue reading