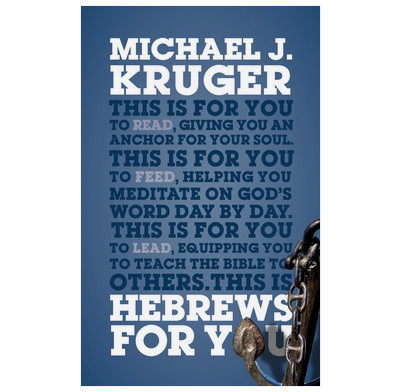 Hebrews For You
Giving You an Anchor for the Soul
Expository Bible-study guide to Hebrews that will excite Christians in their faith and equip teachers and preachers in their work.
We are all tempted to drift away from Jesus, but in the book of Hebrews God gives us an anchor: a detailed understanding of how and why Jesus is better than anything else.
Seminary professor Michael J. Kruger unpacks this rich book verse by verse. He explains the Old Testament background, gives plenty of application for our lives today, and shows us how Jesus is the fulfilment of all God's work on earth. He encourages us to live by faith in Jesus—the only anchor for our souls.
This accessible, absorbing expository guide opens up this book for new and mature Christians alike. It is less academic than a commentary, making it a great resource for personal devotion, as well as useful for leading small group studies or sermon preparation.
Accompanying Bible study guide available to help you study Hebrews in small groups.
Contents
1. The Son in All His Glory (1:1-14)
2. A Great Salvation (2:1-18)
3. Look and Listen (3:1 – 4:11)
4. The Living Word and the Perfect Priest (4:12 – 5:10)
5. A Sober Warning (5:11 – 6:12)
6. An Anchor for Our Souls (6:13 – 7:28)
7. A Better Covenant (8:1 – 9:14)
8. Nothing but the Blood of Jesus (9:15 – 10:18)
9. Don't Quit (10:19-39)
10. Confident Faith, Radical Obedience (11:1-22)
11. The Marks of True Faith (11:23 – 12:3)
12. Run to Zion (12:4-29)
13. Pleasing to God (13:1-25)
Specification
| | |
| --- | --- |
| Contributors | Michael J. Kruger |
| ISBN | 9781784986056 |
| Format | Paperback |
| Dimensions | 135mm x 216mm x 13.1mm |
| Language | English |
| Pages | 240 |
| Publisher | The Good Book Company |
Something Better Is Here
Amber Thiessen, March 11th 2021
"Hebrews for You" is an excellent resource. It reminds us that the Bible is one whole book, inspired by God, and if we apply ourselves to learn and understand the context, we are better equipped in our understanding: Because as Hebrews unfolds, drawing in these Old Testament truths, we see with fresh eyes the unity of scripture and the beauty of God's story.... continue reading
Great resource & very encouraging!
Craig Green, February 21st 2021
Kruger takes you on a journey through the book of Hebrews and as each chapter unfolds you cannot help but have a greater appreciation for the superiority of the Person and work of Jesus. Something that makes this book one to recommend is that it serves a number of purposes, whether you read this from cover to cover, as a reference book or as a study guide you will find it helpful and fun to read (I would definitely use this for a small group bible study).... continue reading
"can help give readers a deeper understanding of this complex, theology-heavy book of the Bible."
Bethany Davidson, April 9th 2021
Kruger provides clear explanations of complex historical and spiritual concepts, and helps readers understand Hebrews in a deeper way. He includes practical illustrations and application ideas throughout, and balances a theological focus with an understanding of how Hebrews should change our lives.... continue reading